2019 Camping and Cabin Rates
| | | | | | |
| --- | --- | --- | --- | --- | --- |
| Sites | | Primitive tent Site No Water/Electric | Tent/Pop-up Site W/E 30/20 amp | Water/ Electric 50/30 amp & Cable | Full Hook-up W/E/S 50/30 amp & Cable |
| Club Yogi™ Tier Levels | | A/B | A/B | A/B | A/B |
| Pre-Season April 15 - May 22 | Weekday | $32 (A) | $37 (A) | $42 (A) | $47 (A) |
| | Weekend | $39 (A) | $44 (A) | $49 (A) | $54 (A) |
| In-Season May 23 - June 15 | Weekday | $45 (A) | $50 (A) | $55 (A) | $60 (B) |
| | Weekend | $52 (A) | $57 (B) | $62 (B) | $67 (B) |
| Peak Season June 9 - Aug 10 | Daily | $52 (A) | $57 (B) | $62 (B) | $67 (B) |
| In-Season August 11 - Sept 2 | Weekday | $45 (A) | $50 (A) | $55 (A) | $60 (B) |
| | Weekend | $52 (A) | $57 (B) | $62 (B) | $67 (B) |
| Holiday's May 24 - Sept 2 | Holiday/Special | $57 (B) | $62 (A) | $67 (B) | $72 (B) |
| Post-Season Sept 3 - October 30 | Weekday | $32 (A) | $37 (A) | $42 (A) | $47 (A) |
| | Weekend | $39-52 (A) | $44-57 (A/B) | $49-62 (A/B) | $54-67 (A/B) |
| | | | | | | |
| --- | --- | --- | --- | --- | --- | --- |
| Sites | | Premium Water/ Electric: W/E 50/30 amp & Cable | Premium Full Hook-up: W/E/S 50/30 amp & Cable | Premium Friends & Family W/E/S 50/30 amp & Cable | Premium Family Back-In W/E 30/20 amp & Cable | Premium Family Full Hook-up W/E/S 50/30/20 amp & Cable |
| Club Yogi™ Tier Levels | | A/B/C | B/C/D | B/C/D | C/D/E/F | D/E/F |
| Pre-Season April 15 - May 22 | Weekday | $52 (A) | $57 (B) | $57 (B) | $77 (C) | $82 (D) |
| | Weekend | $59 (B) | $64 (B) | $64 (B) | $84 (D) | $89 (E) |
| In-Season May 23 - June 8 | Weekday | $65 (B) | $70 (C) | $70 (C) | $90 (E) | $95 (E) |
| | Weekend | $72 (C) | $77 (C) | $77 (C) | $97 (F) | $102 (F) |
| Peak Season June 9 - Aug 10 | Daily | $72 (C) | $77 (C) | $77 (C) | $97 (F) | $102 (F) |
| In-Season August 11 - Sept 2 | Weekday | $65 (B) | $70 (C) | $70 (C) | $90 (E) | $95 (E) |
| | Weekend | $72 (C) | $77 (C) | $77 (C) | $97 (F) | $102 (F) |
| Holiday's May 24 - Sept 2 | Holiday/Special | $77 (C) | $82 (D) | $82 (D) | $102 (F) | $107 (F) |
| Post-Season Sept 3 - October 30 | Weekday | $52 (A) | $57 (B) | $57 (B) | $77 (C) | $82 (D) |
| | Weekend | $59-72 (B/C) | $64-77 (B/C/D) | $64-77 (B/C) | $84-97 (D/F) | $89-102 (E/F) |
| | | | | | |
| --- | --- | --- | --- | --- | --- |
| Lodging | | Boo Boo™ Cabin | Regular Cabin w/Loft | Regular Cabin w/Loft + Hot Tub | Deluxe 2-Room Cabin |
| Club Yogi™ Tier Levels | | A/D/E/F | A/E/F | F | E/F |
| Pre-Season April 15 - May 22 | Weekday | $46 (A) | $56 (A) | $106 (F) | $86 (E) |
| | Weekend | $76 (D) | $86 (E) | $136 (F) | $116 (F) |
| In-Season May 23 - June 8 | Weekday | $96 (F) | $106 (F) | $156 (F) | $136 (F) |
| | Weekend | $106 (F) | $116 (F) | $166 (F) | $146 (F) |
| Peak Season June 9 - Aug 10 | Daily | $106 (F) | $116 (F) | $166 (F) | $146 (F) |
| In-Season August 11 - Sept 2 | Weekday | $96 (F) | $106 (F) | $156 (F) | $136 (F) |
| | Weekend | $106 (F) | $116 (F) | $166 (F) | $146 (F) |
| Holiday's May 24 - Sept 2 | Holiday/Special | $111 (F) | $121 (F) | $171 (F) | $151 (F) |
| Post-Season Sept 3 - October 30 | Weekday | $46 (A) | $56 (A) | $106 (F) | $86 (E) |
| | Weekend | $86-106 (E/F) | $96-116 (F) | $146-166 (F) | $126-146 (F) |
| | | | | | | | | |
| --- | --- | --- | --- | --- | --- | --- | --- | --- |
| Lodging | | Cindy Bear™ Cottage | Lil Bear Cottage | Ranger Smith™ Cottage | ADA Yogi Bear™ Cottage | Yogi Bear™ Cottage | Big Bear Cottage | Lazy Bear Cottage |
| Club Yogi™ Tier Levels | | F | F/G | F/G | F/G | F/G | F/G | F/G |
| Pre-Season April 15 - May 22 | Weekday | $106 (F) | $116 (F) | $116 (F) | $126 (F) | $126 (F) | $136 (F) | $136 (F) |
| | Weekend | $136 (F) | $146 (F) | $146 (F) | $156 (F) | $156 (F) | $166 (F) | $166 (F) |
| In-Season May 23 - June 8 | Weekday | $156 (F) | $166 (F) | $166 (F) | $176 (G) | $176 (G) | $186 (G) | $186 (G) |
| | Weekend | $166 (F) | $176 (G) | $176 (G) | $186 (G) | $186 (G) | $196 (G) | $196 (G) |
| Peak Season June 9 - Aug 10 | Daily | $166 (F) | $176 (G) | $176 (G) | $186 (G) | $186 (G) | $196 (G) | $196 (G) |
| In-Season August 11 - Sept 2 | Weekday | $156 (F) | $166 (F) | $166 (F) | $176 (G) | $176 (G) | $186 (G) | $186 (G) |
| | Weekend | $166 (F) | $176 (G) | $176 (G) | $186 (G) | $186 (G) | $196 (G) | $196 (G) |
| Holiday's May 24 - Sept 2 | Holiday/Special | $171 (F) | $181 (G) | $181 (G) | $191 (F) | $191 (F) | $201 (F) | $201 (F) |
| Post-Season Sept 3 - October 30 | Weekday | $106 (F) | $116 (F) | $116 (F) | $126 (F) | $126 (F) | $136 (F) | $136 (F) |
| | Weekend | $146-166 (F) | $156-176 (F/G) | $156-176 (F/G) | $166-186 (F/G) | $166-186 (F/G) | $176-196 (G) | $176-196 (G) |
| | | | |
| --- | --- | --- | --- |
| Extended Stays | Full Hook-Up Site | Premium Full Hook-Up Site | Seasonal Site April 15th- October 30th |
| | * Plus Metered Electric | * Plus Metered Electric | * Plus Metered Electric |
| April | $649 * | $949 * | If Paid By 11/1/2018: Cash or Check |
| | | | $4,099 * |
| May | $749 * | $1,049 * | If Paid By 11/1/2018: Credit Card |
| | | $1,049 * | $4,199 * |
| June | $1,049 * | $1,349 * | If Paid By 12/1/2018: Cash or Check |
| | | | $4,499 * |
| July | $1,149 * | $1,449 * | If Paid By 12/1/2018: Credit Card |
| | | | $4,599 * |
| August | $1,149 * | $1,449 * | If Paid After 12/1/2018: Cash or Check |
| | $1,149 * | $1,349 * | $4,899 * |
| September | $749 * | $1,049 * | If Paid After 12/1/2018: Credit Card |
| | $749 * | $1,049 * | $4,999 * |
| October | $699 * | $999 * | *Includes On-Site Storage 10/31 - 4/14/20 |
| | |
| --- | --- |
| Extended Stays | Full Hook-Up Site |
| | *Metered Electric |
| April | $649 * |
| | |
| May | $749 * |
| | |
| June | $1,049 * |
| | |
| July | $1,149 * |
| | |
| August | $1,149 * |
| | |
| September | $749 * |
| | |
| October | $699 * |
| | |
| --- | --- |
| Extended Stays | Premium Full Hook-Up Site |
| | *Metered Electric |
| April | $949 * |
| | |
| May | $1,049 * |
| | |
| June | $1,349 * |
| | |
| July | $1,449 * |
| | |
| August | $1,449 * |
| | |
| September | $1,049 * |
| | |
| October | $999 * |
| | |
| --- | --- |
| Extended Stays | Seasonal Site April 15th - October 30th |
| | *Metered Electric |
| If Paid By 11/1/2018: Cash or Check. | $4,099 * |
| | $4.045 |
| If Paid By 11/1/2018: Credit Card. | $4,199 * |
| If Paid By 11/1/2018: Credit Card. | $4.145 |
| If Paid By 12/1/2018: Cash or Check. | $4,499 * |
| If Paid By 12/1/2018: Cash or Check. | $4.445 |
| If Paid By 12/1/2018: Credit Card. | $4,599 * |
| If Paid By 11/1/2018: Credit Card. | $4.545 |
| If Paid After 12/1/2018: Cash or Check. | $4,899 * |
| If Paid By 11/1/2018: Cash or Check. | $4.899 |
| If Paid After 12/1/2018: Credit Card. | $4,999 * |
| If Paid By 11/1/2018: Credit Card. | $4.999 |
| Storage | Includes On-Site Storage 10/31 - 4/14/20 |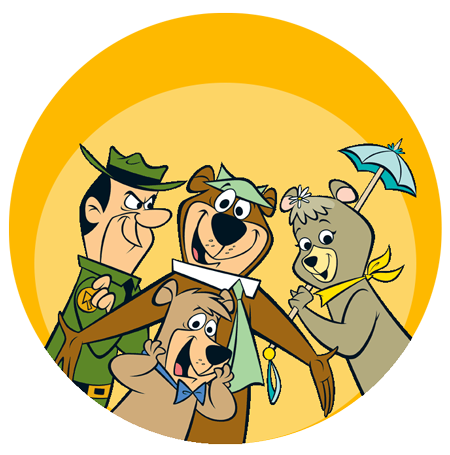 Daily Rates: Includes 2 adults and up to 4 children age 4-17.  Extra Adult/Children $7/Day & on Holiday/Special $10/Day.  
Reservations, Cancellation, & No-Show Policies
Below are Yogi Bear's Jellystone Park Camp-Resort reservation, cancellation and no show policies. Please review each policy carefully before submitting your reservation.
Reservation Policy
A 2-night minimum is required for all reservations. Walk-Ins are always welcome and can stay for one night, if space is available.
All reservations require payment in full at the time the reservation is made.
Holiday Time Periods have a 3-night minimum stay.
Special Time Periods consist of Harborfest (3rd Thursday + weekend in June), Blueberry Festival (2nd Thursday + weekend in August) and Halloween (September/October) are charged holiday rates.
Reservation made within the 7 days of arrival will require a non-refundable deposit.
Cancellation Policy
Cancellations processed 7 days or more prior to arrival will result in a $15.00 cancellation fee.
Cancellations processed less than 7 days prior to arrival will be charged:

1-night site rental on Regular Rate Periods for each site/cabin/cottage/golf cart reserved
2-nights site rental on Special Time Periods for each site/cabin/cottage/golf cart reserved
3-nights on Holiday Time Periods for each site/cabin/cottage/golf cart reserved

No refunds on early departures.
No Show Policy
All reservations will be held until 9:00 AM on the morning following your scheduled arrival. If you do not arrive and have not cancelled your reservation, you will lose all monies associated with your reservation and your reservation will then be cancelled.