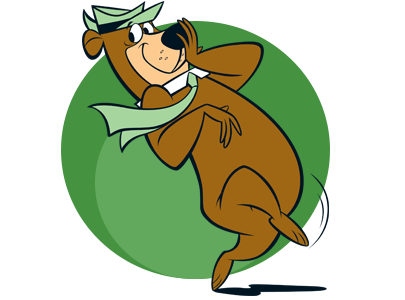 Our cute Yogi Bear™ Cottage is situated in one of our newer areas of the campground, along Ranger Way Drive and along 64th Street.  These cottages are approximately 14 x 30 feet and has a 8 foot screened in porch that comes with a bench glider.  These cottages have indoor plumbing that includes a bathroom with bathtub, kitchen with a full-size stove/oven, refrigerator, microwave, toaster and a 10-cup coffeemaker.  Located outdoors is a park grill for charcoal use, picnic table and a fire ring.  If camping with friends, we offer 6 Yogi Bear™ Cottage right next to each other!
Our Yogi Bear™ Cottage has a queen size bed located in a back bedroom and 2 sets of bunk beds also in their own private room.  There is also a futon located in the living room to provide an extra full-size bed for those guests that needed it.  Cottages have air conditioning and heat to help us adjust to the great Michigan Weather!
Our price includes 2 adults and 4 children for this specific cabin.
What's Included in Our Yogi Bear™ Cottage?
Pots & Pans, Dishes and Silverware
Toaster and 10-cup Coffee Maker

Park Grill, Picnic Table and Fire Ring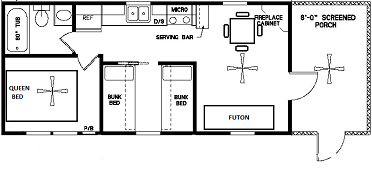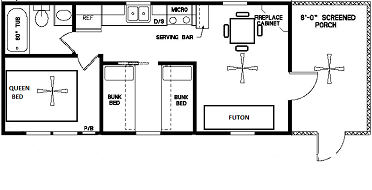 Pets & Linen Service
Our cabins allow pets! There is a $10 per Pet Cleaning Fee added to rate per day. All damage that is associated from the pets will be the responsibility of the guest.
Linen Service is available!  If you would like a linen package, be sure to reserve at the time of reservation to get the discounted rate…  There is a one-time fee of $15 for each Queen/Full bed, which includes appropriate size sheet and pillowcase set, blanket/cover, 2 bath & hand towels & 2 washcloths. Each Twin set is just $12.50 which includes the appropriate size sheet and pillowcase set, blanket/cover, 1 bath & hand towels & 1 washcloths.
***Linen packages that are ordered after the reservation has been made will be $20 for Queen/Full size and $17.50 for Twin size.
Please note:  We do not provide daily maid service.
When  Staying in One of Our Cabins, Please Remember:
Check In Time:  4 pm or later
Check Out Time:  11 am or earlier
Sleeps up to 8 depending on size and comfort
Includes Pots & Pans, Dishes and Silverware
Includes 2 pillows per Queen; 1 pillow per Twin
No smoking allowed in Cabins.  There is an $150 cleaning fee if smoking noted in cabin/cottage.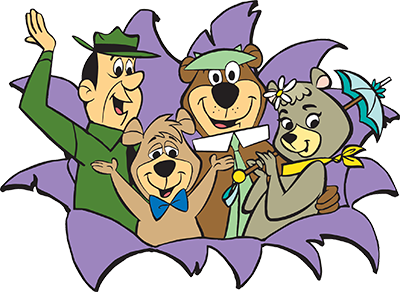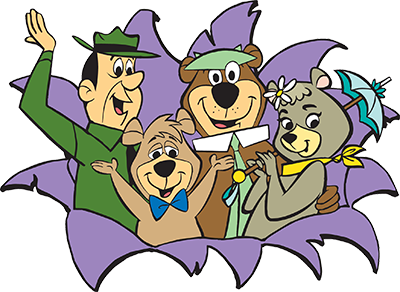 Don't Forget to Bring the Following to Make Your Stay Enjoyable:
Outdoor Cooking Utensils
Microwave Dishes
Linens & Blankets
Personal Items
Yogi Bear Cottages are on the following sites:
CC20
CC21
CC22
CC24
CC26
CC27
CC30
CC34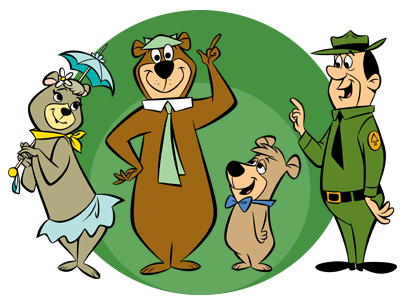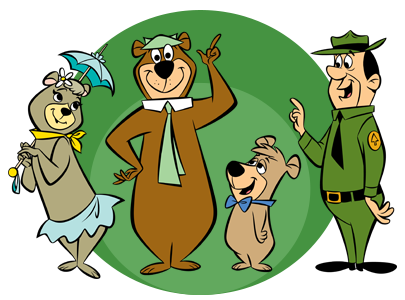 For the latest Rates information, please click below.
Discounted Rates offered in our Pre and Post-Seasons.