A FREE program for Jellystone Park guests.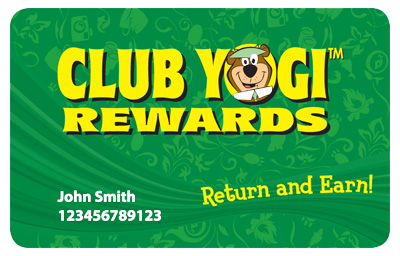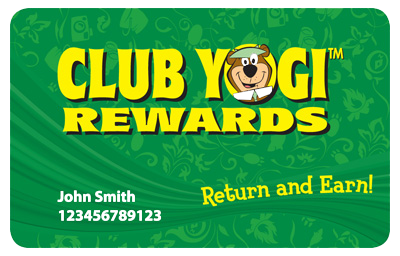 Club Yogi Rewards is an easy way to earn free nights. Life is hectic, so we designed a program that is easy to understand and participate in.
Enrollment
Enrollment is done online. Simply click here and complete the required fields. You will receive a membership card in about 6 weeks via U.S. mail.
If you have a temporary paper card from a Jellystone Park, click here to activate your account and receive a permanent membership card.
Earning Points on Accommodations
Provide your membership number when making a reservation or when you check-in at the park. Your account will be credited with five Club Points for every dollar spent on a tent site, RV site, or rental (cabin, park model, yurt, etc.)
Seasonal Campers can join Club Yogi Rewards, but will not earn points on site fees. Instead, they will earn 500 bonus points with a contract executed annually. Seasonal campers will earn points for store purchases and have access to member benefits.
Earning Points on Purchases
Present your membership card in the Jellystone Park store to receive five Club Points for every qualified dollar spent. *Note – Because technology systems vary per Jellystone Park, qualified dollars will vary by location.
Redeeming Points – Free Nights
Club Points can be redeemed for one of eight Tiers of accommodations. Campsites, cabins and rental units are classified by Tier. Each Jellystone Park labels their available accommodations into a specific Tier. This information can be found on the park's website or by contacting the park directly.
Your Free Night certificate can be redeemed at any time, we don't have blackout dates! However, certain holiday weekends* require double points.
Reward
Code
Points
Required
Holiday Points
Required
Tier A
5,000
10,000
Tier B
6,000
12,000
Tier C
6,800
13,600
Tier D
7,800
15,600
Tier E
8,600
17,200
Tier F
16,000
32,000
Tier G
20,000
40,000
Tier H
22,000
44,000
Tier I
40,000
80,000
Tier J
60,000
120,000
Tier K
80,000
160,000
Once you've accumulated enough points for your desired Tier, follow these steps to redeem:
Make a reservation at a Yogi Bear's Jellystone Park and be sure to request an accommodation that matches the Tier you want to redeem. (Each location offers different campsites and cabins, so check your favorite park's website for available accommodation Tiers.)
Log onto your account. Click on the Tier you want to redeem and hit Submit.
Your certificate will pop up from the website.
Print the certificate and present it when you register at the Jellystone Park. Note: In order to receive your Free night, the certificate must be presented at check-in.
To make a reservation at a Jellystone Park: 1) Click here for a list of direct phone numbers and links to each Jellystone Park's website 2) Use the Jellystone Park toll-free network #800-558-2954