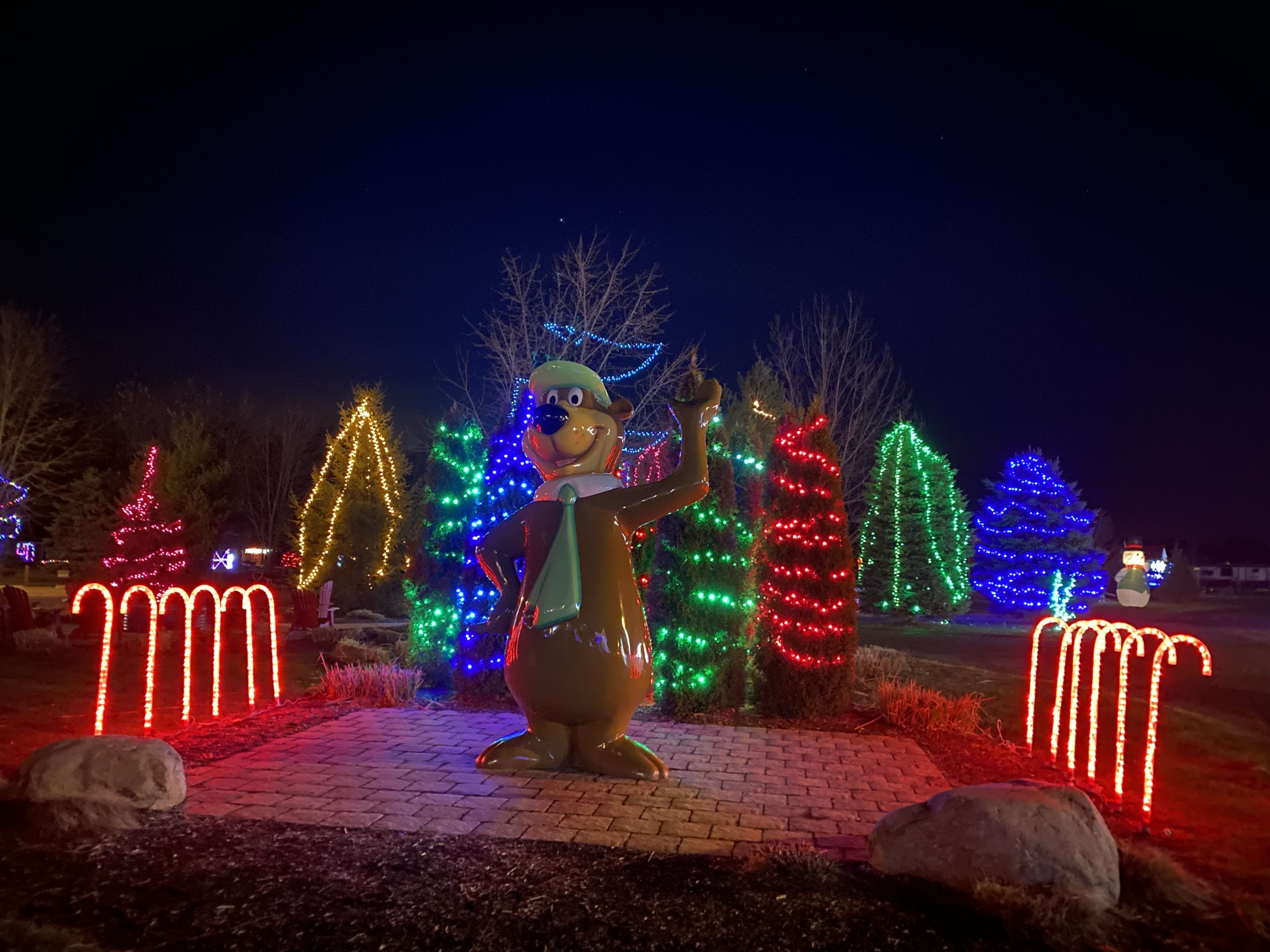 South Haven's only Christmas Light Show
New for Christmas 2022

, we have added family friendly

 

Activities

and 

Doubled

the length of the show!
Christmas in the Park is a lighted celebration at Yogi Bear's Jellystone Park Camp-Resort that will surely put you in the Christmas Spirit!  The Christmas in the Park is soon to be a park-wide lighted celebration that will change any Scrooge's mind into enjoying the spirit of the season! The drive through light show will feature over 60,000 lights festively displayed along a 1/2 mile drive throughout Yogi Bear's Jellystone Park Camp-Resort. We offer magical lighted displays as Photo-Opportunities, these photo-opportunities are a really good way to capture your memories while you're in Christmas in the Park.   Visitors will be able to experience our NEW enchanting, animated figures and holiday scenes where the lights will come to life. The cost to tour thru Christmas in the Park is only$20/car (up to 8 people).
After driving through Christmas in the Park, we invite everyone to park their car and check-out the different buildings that we have:
Activity Central-
Interested in making a night of it?  Here we thought we would share some of the activities that we do in the summer at our Rec Center, inside of the Yogi Bear  Pavilion.  Want to decorate a Cookie?  Maybe Tie Dye a T-Shirt or paint a Ceramic ornament? You can pick and choose what you want to do or we developed an Holiday Fun Package for those that want to do it all and save money at the same time!  We also offer a free craft, of course!
Mrs. Claus's Bake Shoppe-
Everyone can enjoy hot chocolate, Peppermint Latte, Caramel Apple Cider, a bucket of Mini Donuts or other sweet treats, or you can pick-up dinner!  We offer pizza, hamburgers or chicken sandwiches!
Of course we didn't forget the most important person on the season, Santa!  You can purchase an SMS Photo for a $5 donation to a Charity or you can get one FREE with a purchase of a bucket of donuts.
Santa's Toy Shoppe-
Walk a little further and see how we transformed our Ranger Station into Santa's Toy Shoppe! This is where you will be able to buy those perfect gifts for your loved one's!  In Santa's Toy Shoppe you will find matching pajamas for the whole family, Traxxas RC Cars, and we even personalize an ornament for you and your loved ones.  For those with a sweet tooth, be sure to check out our fresh homemade fudge, made right in Santa's Toy Shoppe!
We hope you will enjoy our 2nd  attempt of Christmas in the Park here at Jellystone Park!
We hope to see you next year at your New Christmas tradition.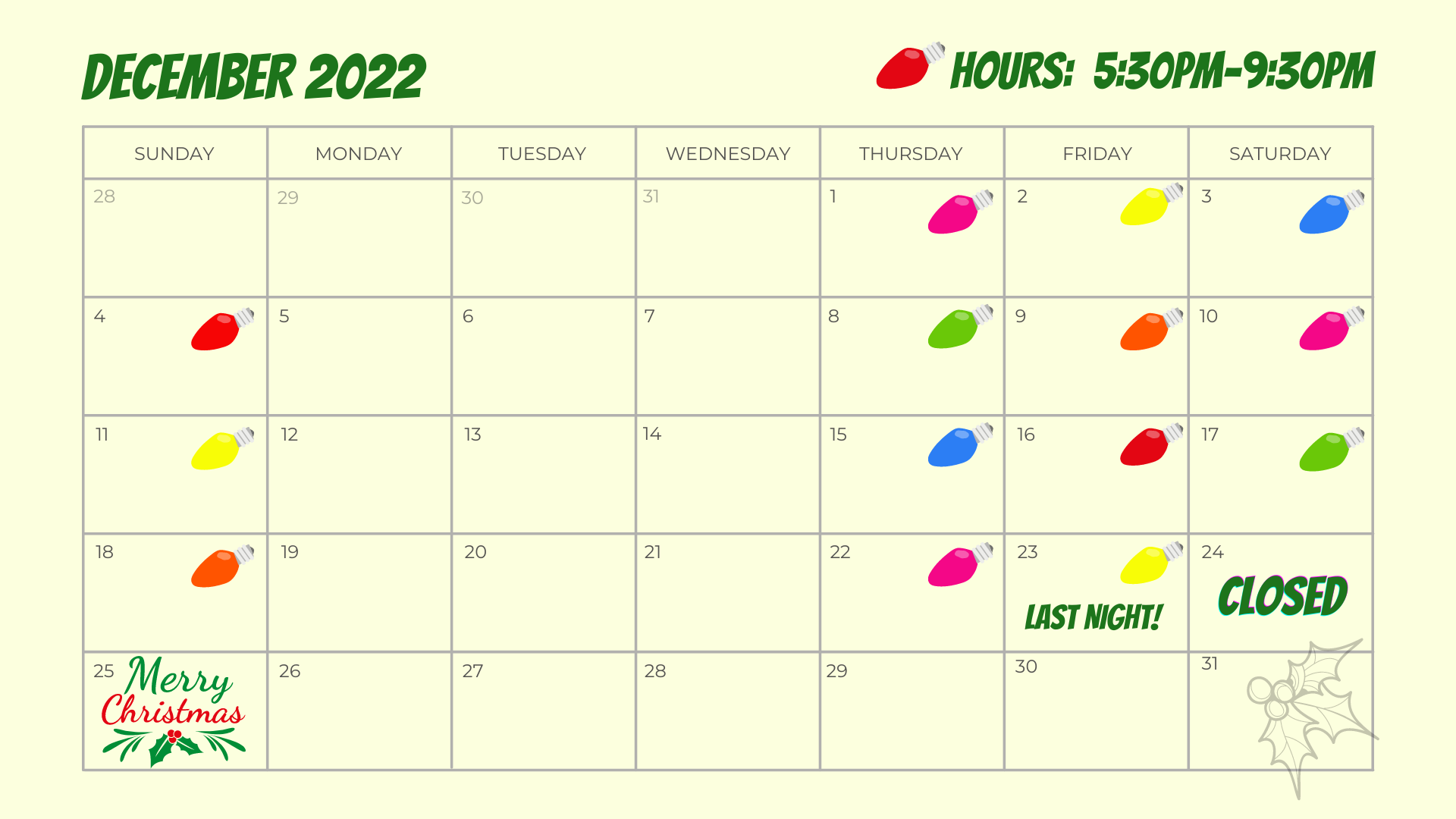 Tickets
Experience the magic at the Christmas in the Park, South Haven's only drive-thru light show!
Wind your way through over 60,000 dazzling lights on a 1/2 mile path, all from the comfort of your own car!
Open November 26th – December 23rd at Jellystone Park™ in South Haven. Enjoy the nostalgia and wonderment of the lights and the season, while enjoying the awe of a child as they experience the lights of the season, along with their joy and merriement.