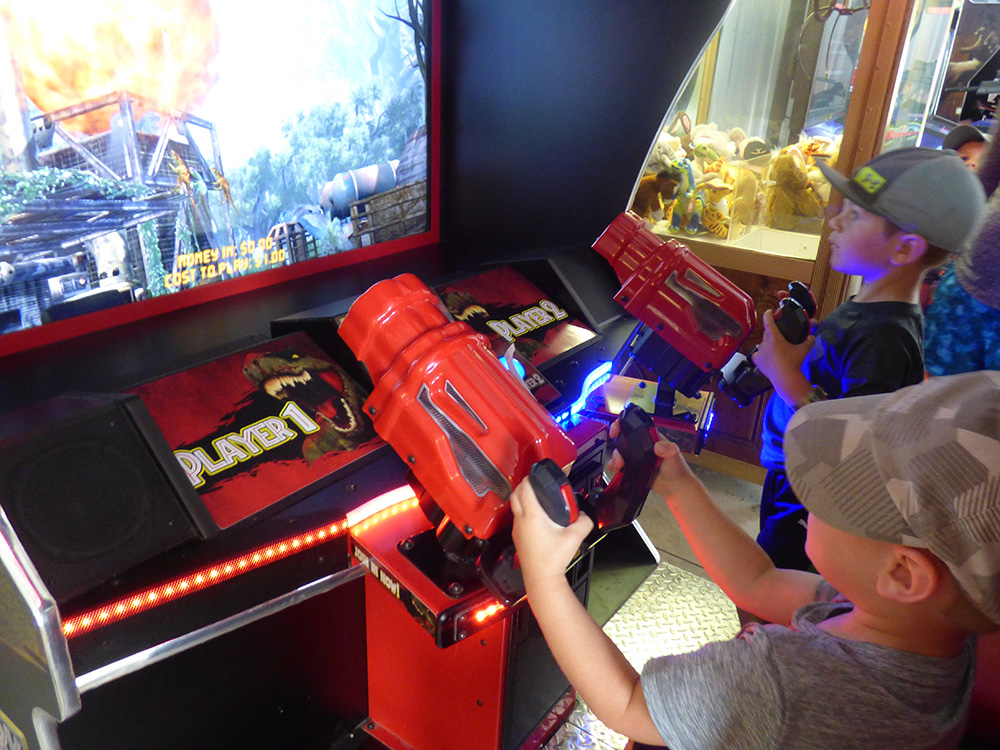 Arcade Alley
Rain or shine, there's always fun to be had at Arcade Alley! Immerse yourself in the middle of escaping from the dinosaurs in Jurassic Park® or trying to stay away from the zombies in Walking Dead®.  You can also try many of the other new games in Arcade Alley and there is even a claw crane with your favorite Jellystone Park™ Plush animals!   Check out our kiosk that offers our NEW cashless card!  No more exchanging quarters for a dollar.  Our new cashless card also keeps track of your "tickets" to make redemption prizes easier to obtain!  The NEW redemption counter is in the Recreation Center.
Outdoor Laser Tag
Each Laser Tag sessions last approximately 12 minutes and are $8 per person.
SAVE MONEY!
Purchase 5 games, only $37.50! Purchase 10 games, only $70! Purchase 20 games, only $120!
Laser Tag is a high-tech combination of Tag and Hide-n-Seek, and it's sure to get your blood pumping.  Challenge your family and friends to this heart racing, adrenaline pumping adventure! Use your tactical skills in our indoor and/or outdoor arena to strategically take down opponents and be the last team standing.  Be sure to check out one of our Laser Tag Arena!  Perfect for ages 7 & up!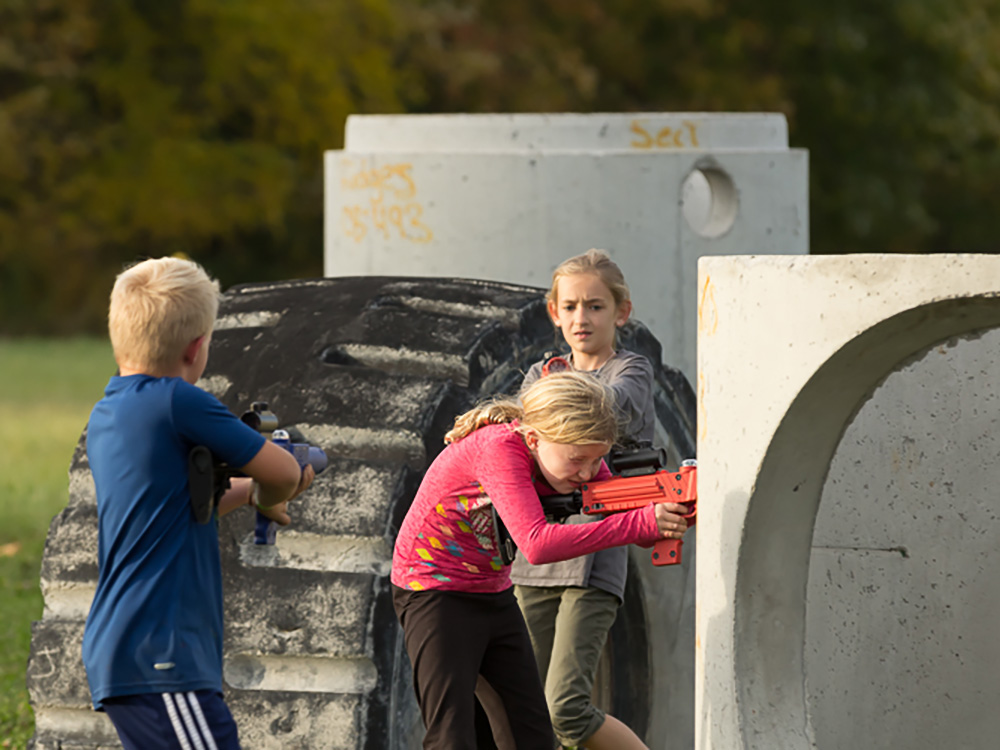 Indoor Laser Tag
Each Laser Tag sessions last approximately 8 minutes and are $8 per person.
SAVE MONEY!
Purchase 5 games, only $37.50! Purchase 10 games, only $70! Purchase 20 games, only $120!
Our Indoor Laser Tag offers an immersive gaming experience with exclusive interactive technology.  Want to immerse yourself more? Download the CallSign app. This revolutionary smartphone application allows you to use your phone as a heads-up display, view their stats in and outside of games, view their personal medals, level up, and unlock and redeem custom rewards!  Be sure to check out our NEW Indoor Laser Tag Arena!  Perfect for ages 7 & up!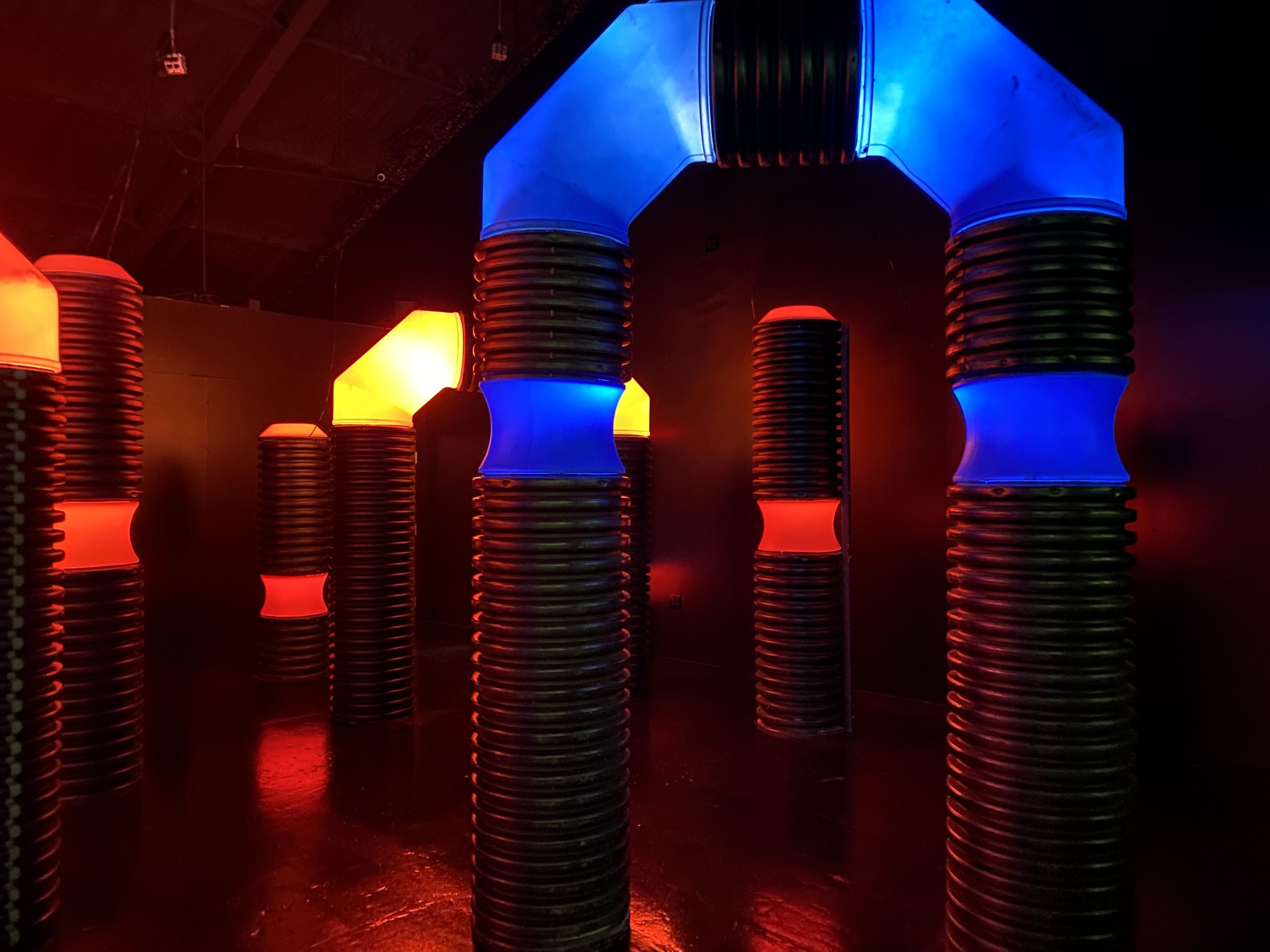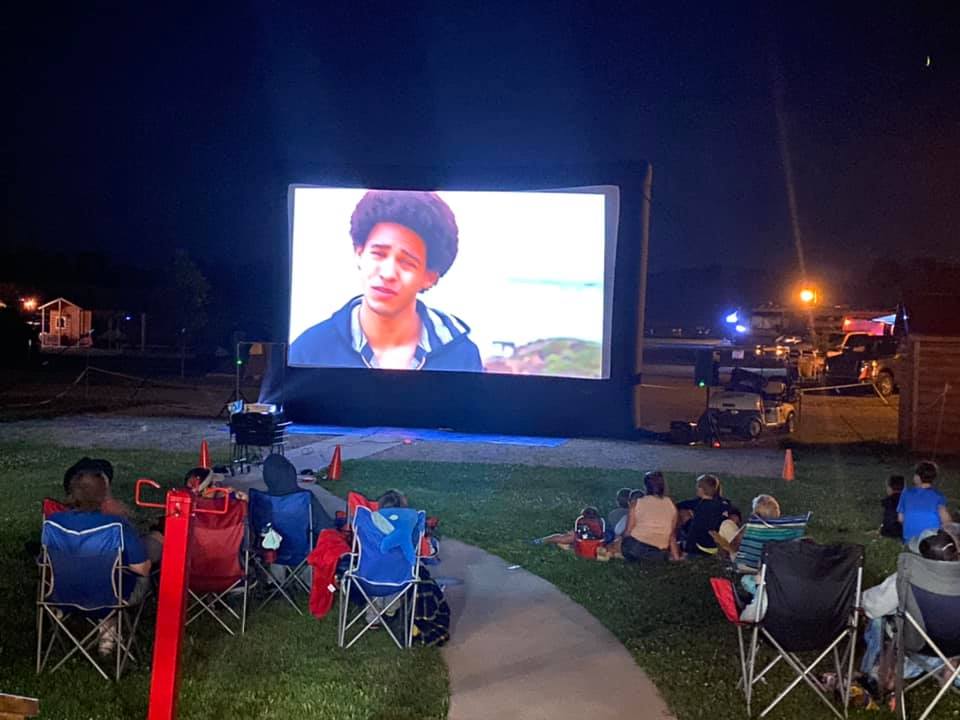 *Please note that we only show movies that have a PG-13 and below rating.  We try to show a variety of movies to appeal to all ages (a young child, teen and adult), not all movies may be appropriate for your child.  Parental Guidance suggested.
Jellystone Theater
Little ones and their family will love what movies* and Yogi Bear cartoons we have in store. Bring a blanket or chair for a comfortable good time! Located on the east side of the Cartoon Cafe.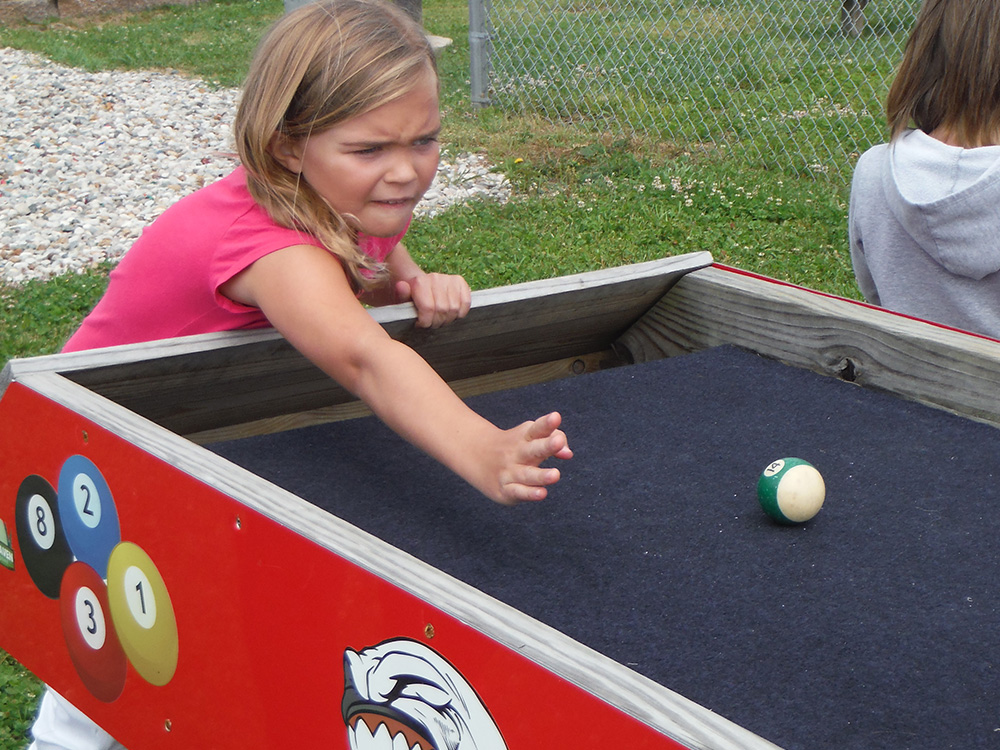 Carpet Ball
Challenge your family and friends in a fun game of carpetball. The rules are the same as pool, only you use your hand to roll the cue.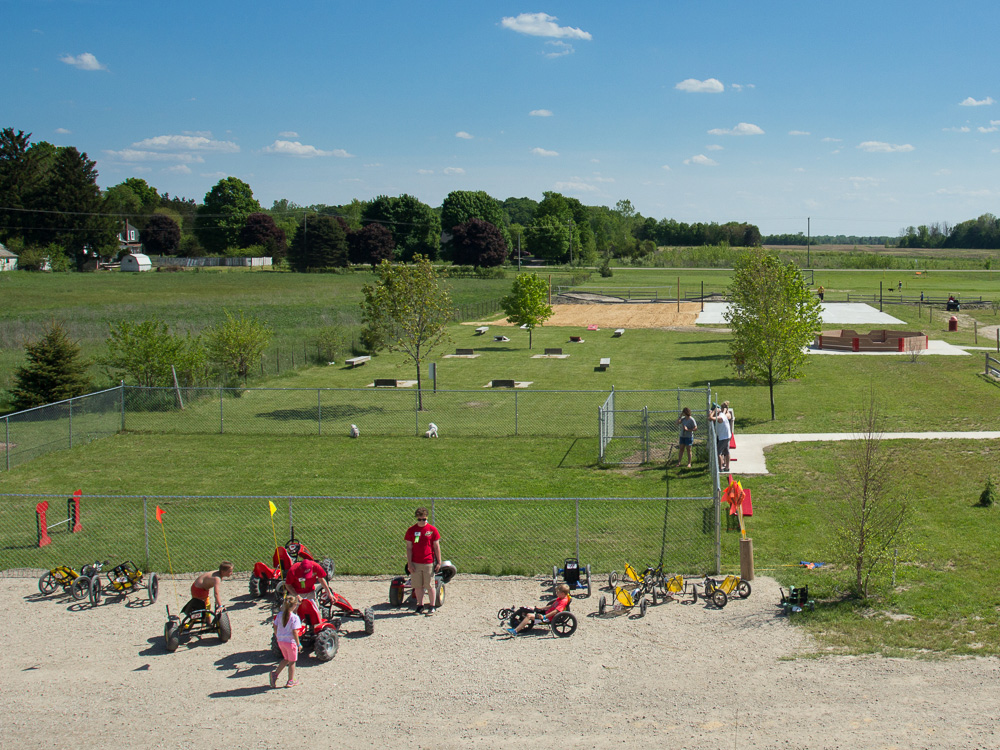 Corn Hole
Toss some bags against your friends or neighbors. Honestly, who doesn't love this game?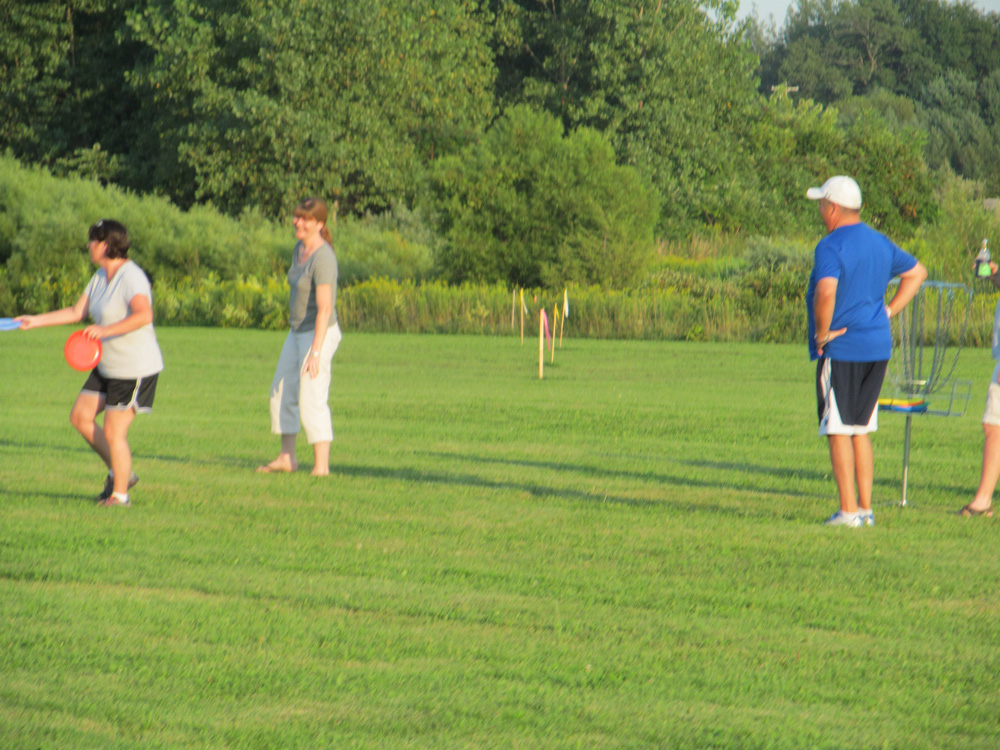 Disc Golf
Try out our basic course of disc golf. It's like traditional golf but with Frisbee discs. Remember the one with the lowest score wins!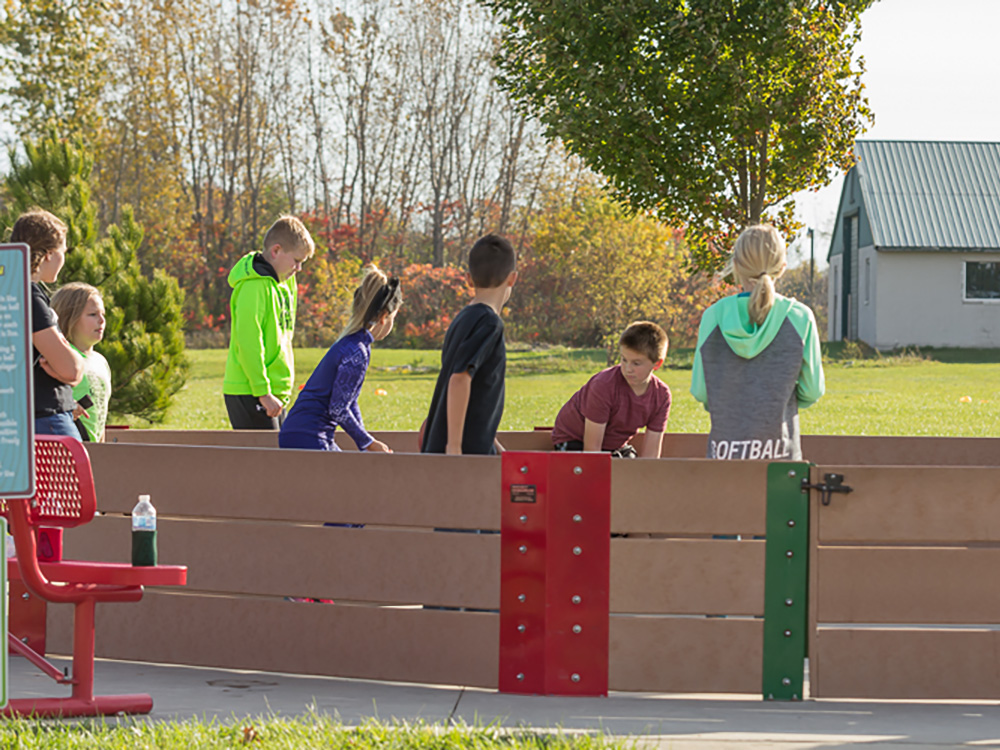 Gaga Ball
A twist on a classic game of dodge ball. This is sure to become a favorite!  This Gaga ball pit is ADA accessible.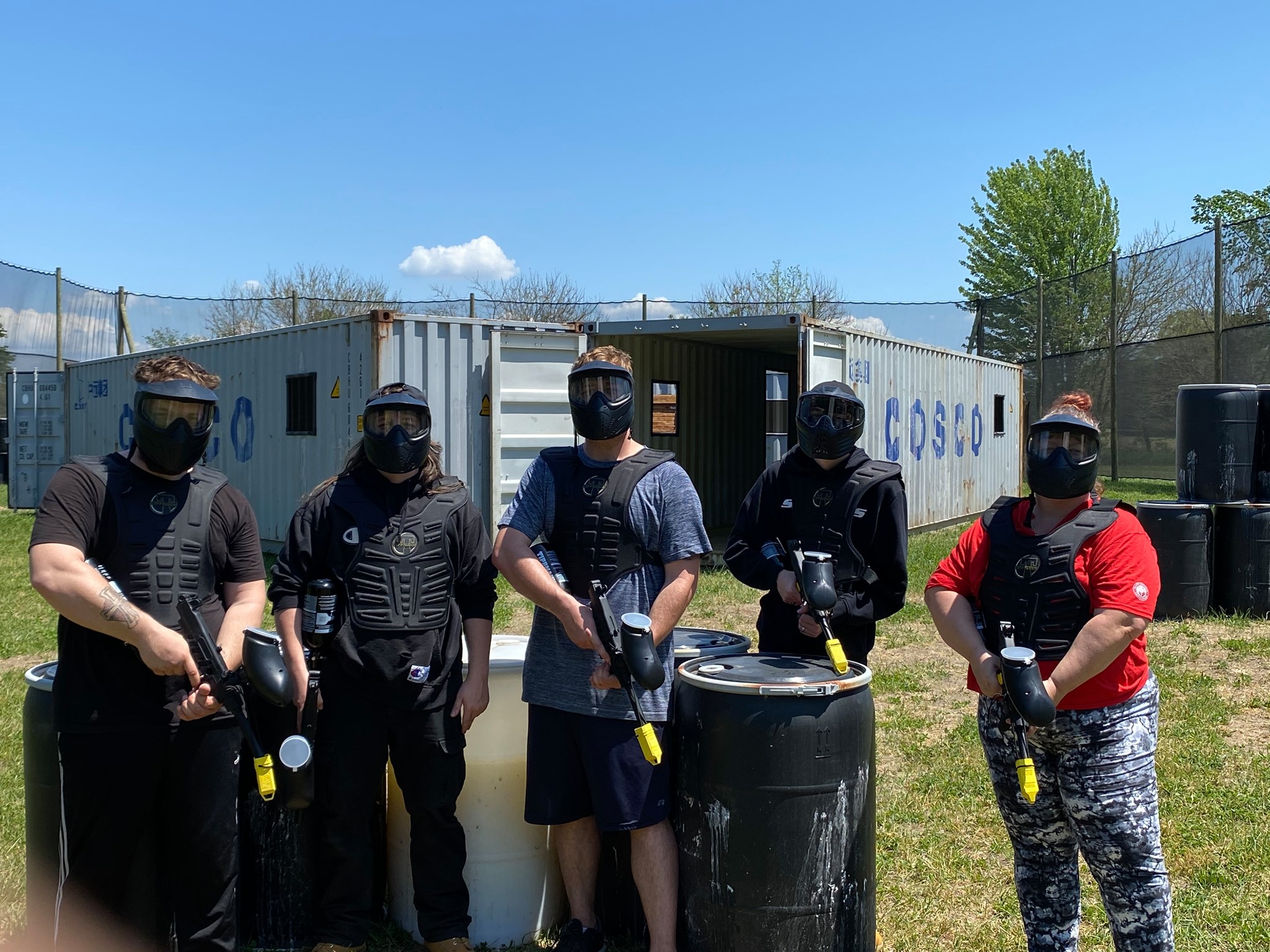 Paintball
Challenge your friends and family to an ultimate adventure moving between obstacles and targeting their opponents on the NEW outdoor paintball course!  Use your tactical skills to strategically take down opponents and be the last team standing.
Be sure to check out our NEW Paintball course!  Perfect for ages 12 & up!  All participants must sign a waiver to play.  We recommend wearing closed toe shoes and old clothes to play.
IN PARK GUEST COST:
Rental Equipment/Field Rental with 100 Rounds –
$18/Hour
Field Rental (Own Equipment) with 100 Rounds –
$10/Hour
*Please note that South Haven Jellystone Park™ is a field paint only field (FPO). All players must use paint purchased from South Haven Jellystone Park™ regardless if they have their own equipment. No outside paintballs will be permitted!
Old Faceful Mining Company
Come pan for treasure and pretend you are back in the wild west at our gem mining sluice. Who knows what treasures they will find? Fun for the whole family!!  We offer many different mining rough bags for you to choose from.  You may purchase your mining rough in the Ranger Station.
Listed below are the many different bags that we offer: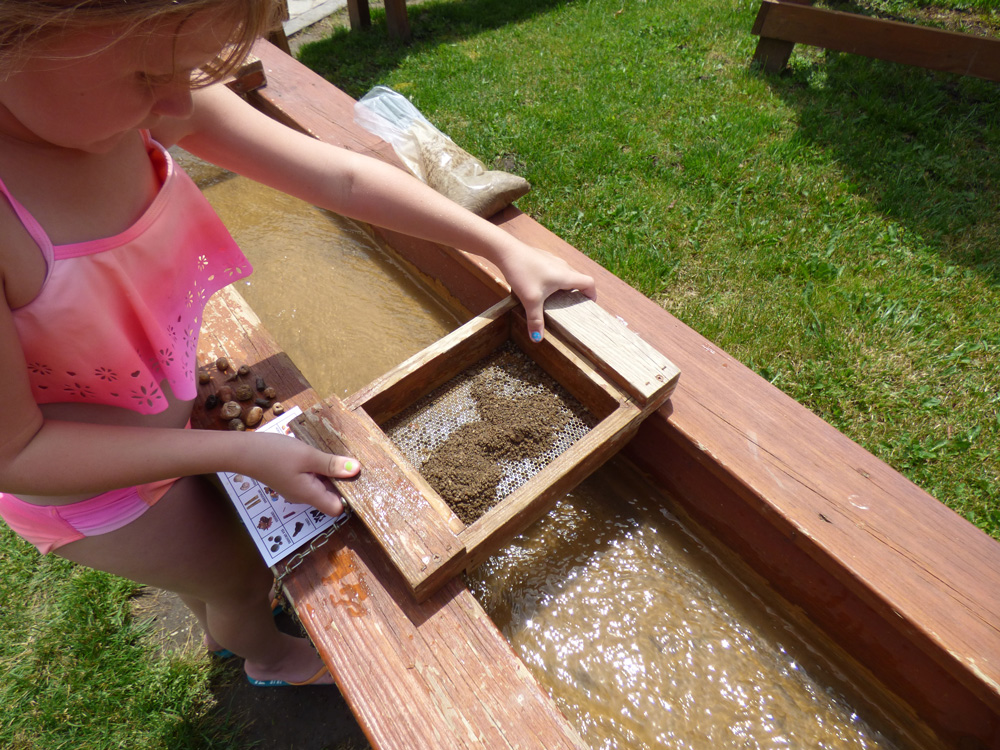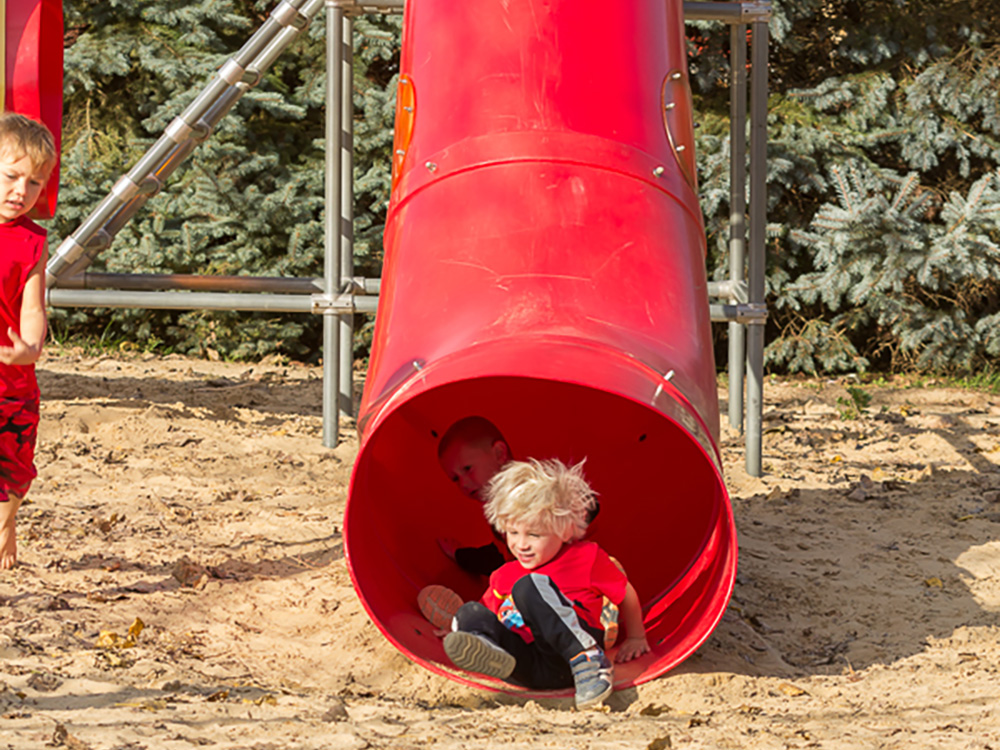 Kids Corral
Your little campers will have fun climbing, swinging and spinning in our sandy playground. It's perfect for those who like to monkey around.  The best part of Kids Corral is that there is a large sand hill to play on!  Although maybe not mom's favorite, this sand hill can keep your youngsters occupied for hours!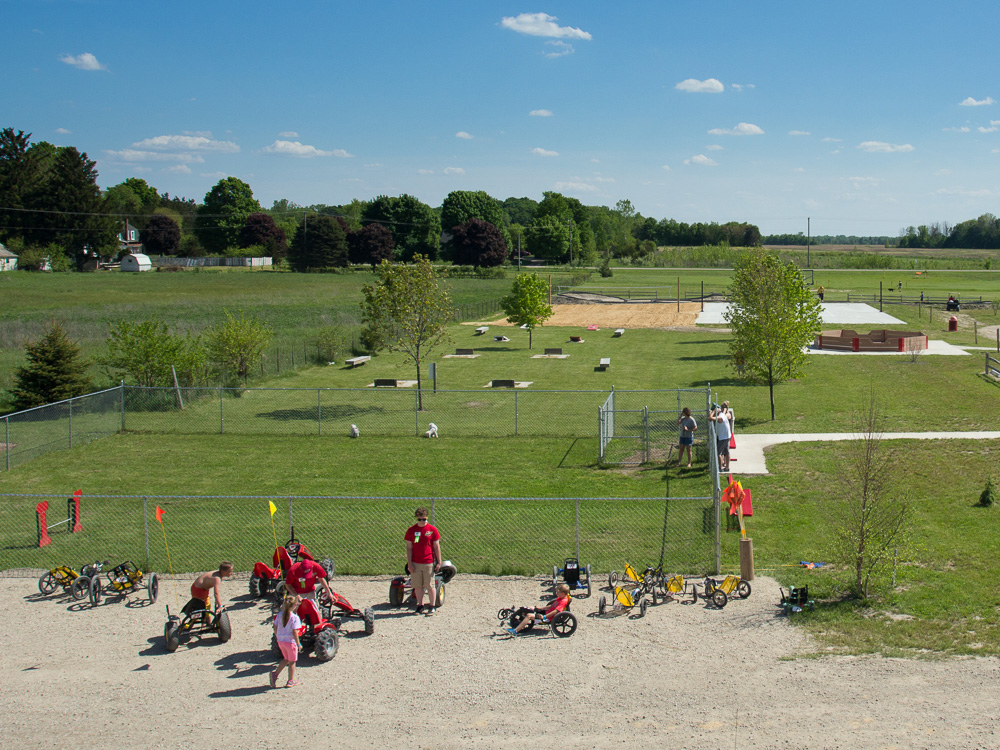 Horseshoes
Whether you throw ringers or not, enjoy playing with old or maybe new friends.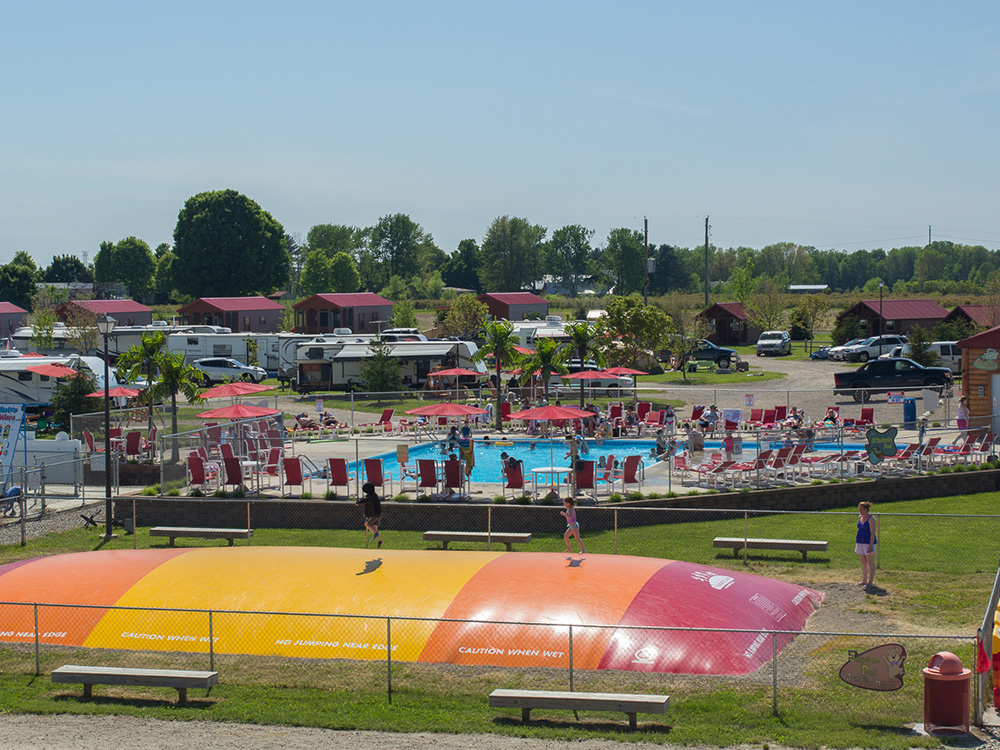 Jumping Pillow
On our giant jumping pillow, jumping is so much fun! Adults and children alike will stay happy and entertained. And Hey! It's good exercise too!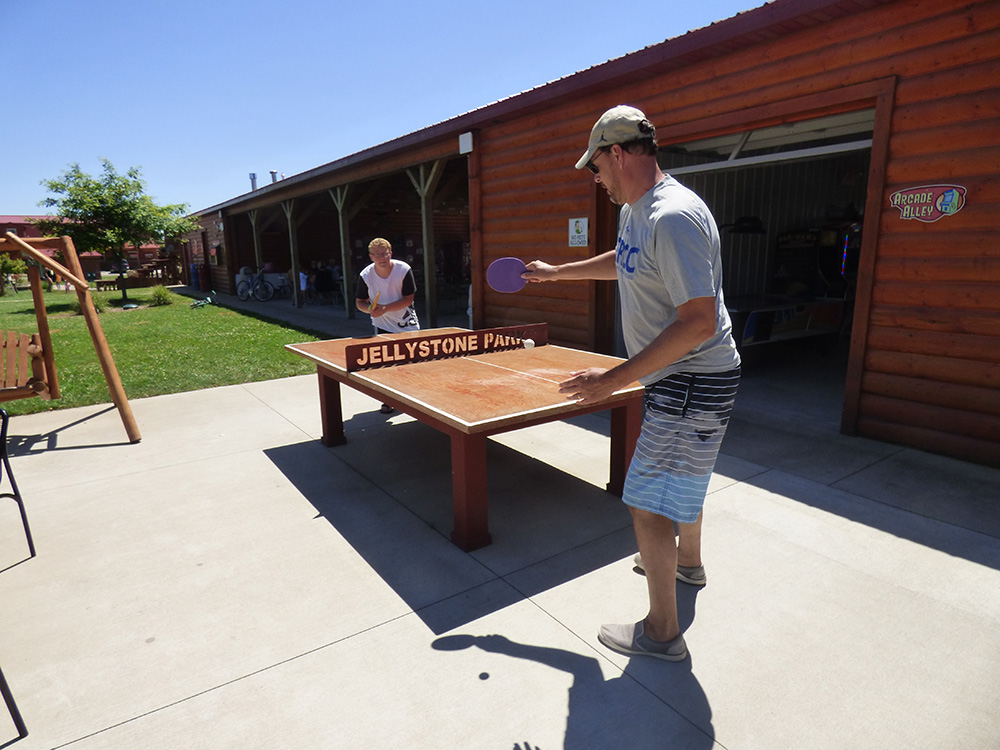 Outdoor Ping Pong
Located right outside Arcade Alley. Bring a friend for a one on one game or bring the whole family for a cheering section.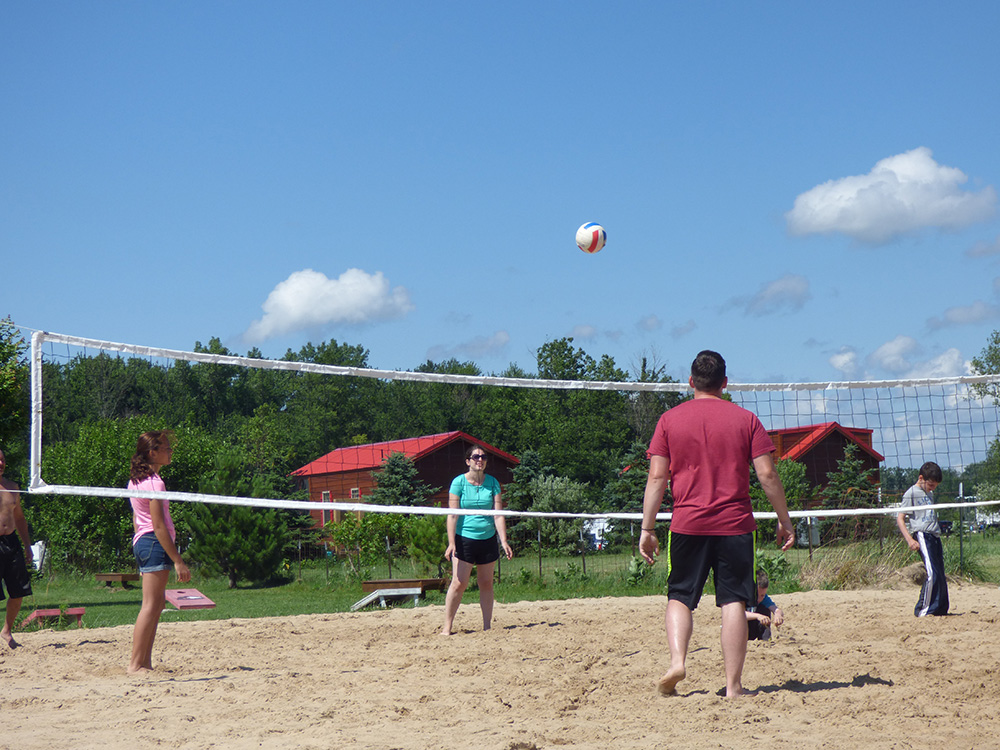 Sand Volleyball
Whip off those socks and shoes and enjoy a competitive game of volleyball. Spiking and diving will be a breeze on our comfortable sand court.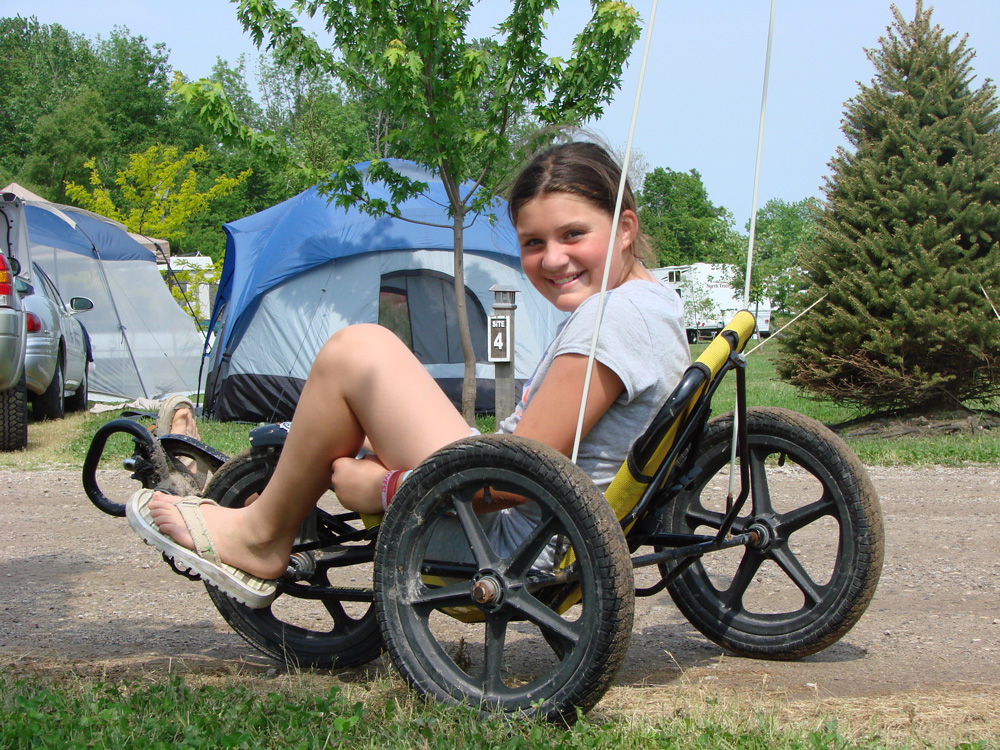 Pedal Karts & Fun Bike Rentals
Have extra energy to burn? Our large assortment of pedal kart and fun bikes are sure to do the trick. It's fun for the whole family! Pedal karts and fun bikes can be rented individually for 30 or 60 minutes or with a wristband for unlimited 30-minute increments during your stay (up to a week).
Below is pricing for our Bike Rental Program:
WaterWars®
Play our ultimate water balloon game! Get sprinkled, sprayed, or saturated. Watch out though, retaliation comes quickly! Grab a friend and play a game on a sizzling summer day.  Listed below are the purchase price for our biodegradable balloons that must be purchased in the Ranger Station:
50 balloons for $3.00 (includes tax)
100 balloons for $5.00 (includes tax)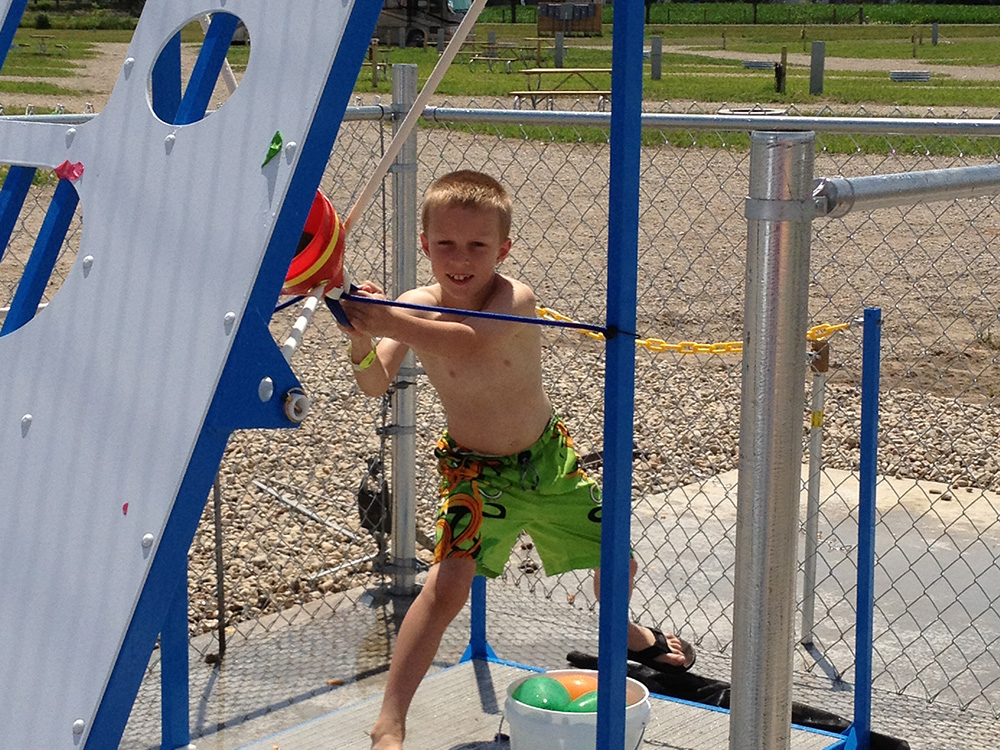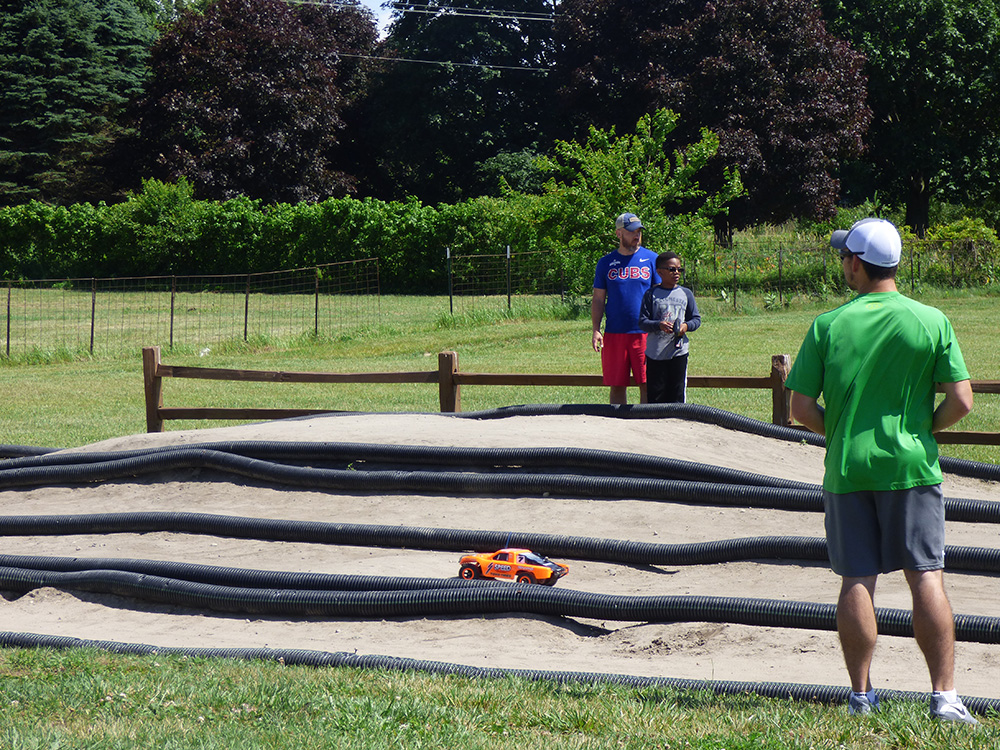 RC Track
Have an RC car?  Bring it camping!  If not, you can rent one of ours!  Come and try out our dirt track made especially for RC Cars.  Boo Boo™ loves this fun and entertaining amenity where you are sure to enjoy it with your family and friends.
Please Note:  RC Cars may only be driven on the RC Track.  RC cars are NOT allowed to be driven on the campground roads.
See below for pricing:
RC Car Rental for the life of one battery* $16
Rent 2nd battery at same time, only $6!
*Please note each battery can run between 15-45 minutes.  Full throttle driving depletes the battery faster.  2nd battery is only available when purchased at time of RC Rental.
Recreation Center
This is the main hub for crafts and activities at Jellystone Park™.  Whether it's painting a ceramic ($5.99 and up), tie dyeing a t-shirt ($8.99 and up), coloring a tote bag ($6.99 & up), or making your very own Mystic Light ($7.50-$55), you will find it all here.  You can even check out that jump rope, GaGa ball, basketball or horseshoes here too.
There is plenty to do at the Recreation Center, located under Yogi Bear™ Pavilion.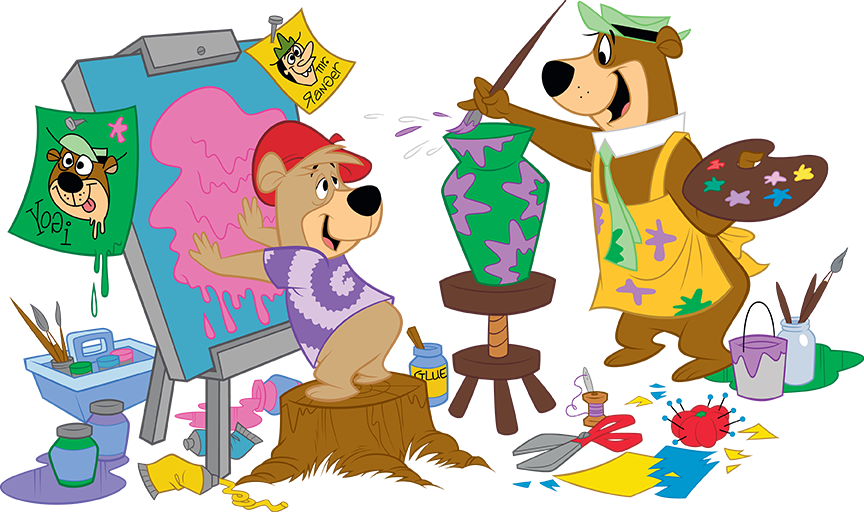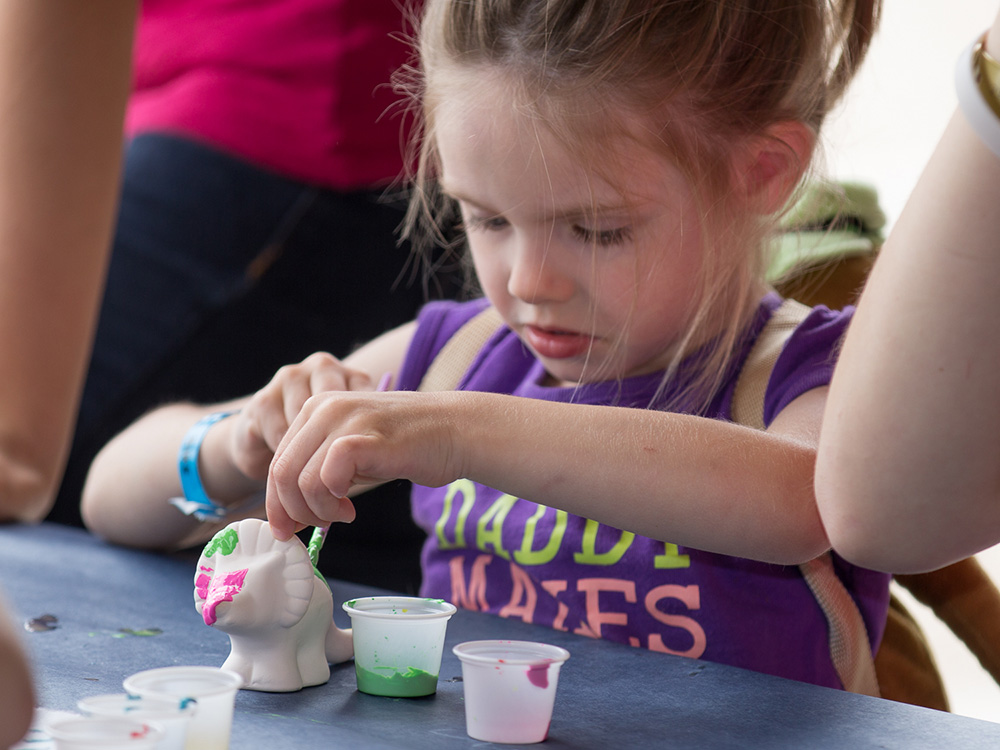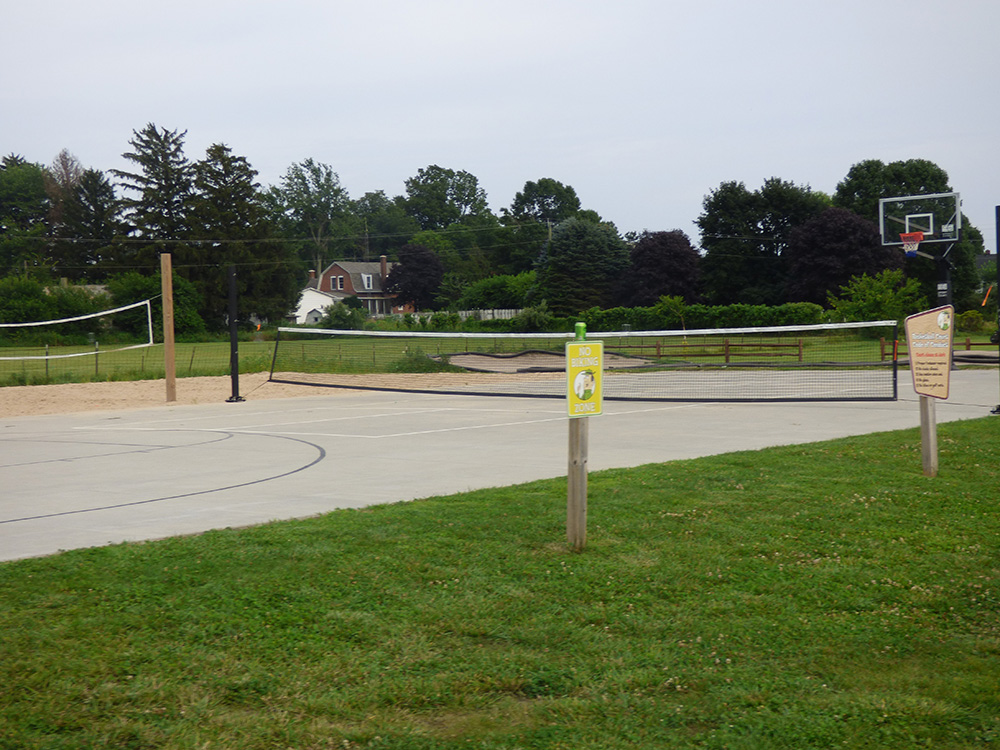 Multi-Use Court
This fun multi-use court allows you the option to play a variety of sports: badminton, volleyball, pickle ball, tennis, four square and basketball. Available equipment may be checked out in our Rec Center. With this many options, how can you not have a blast?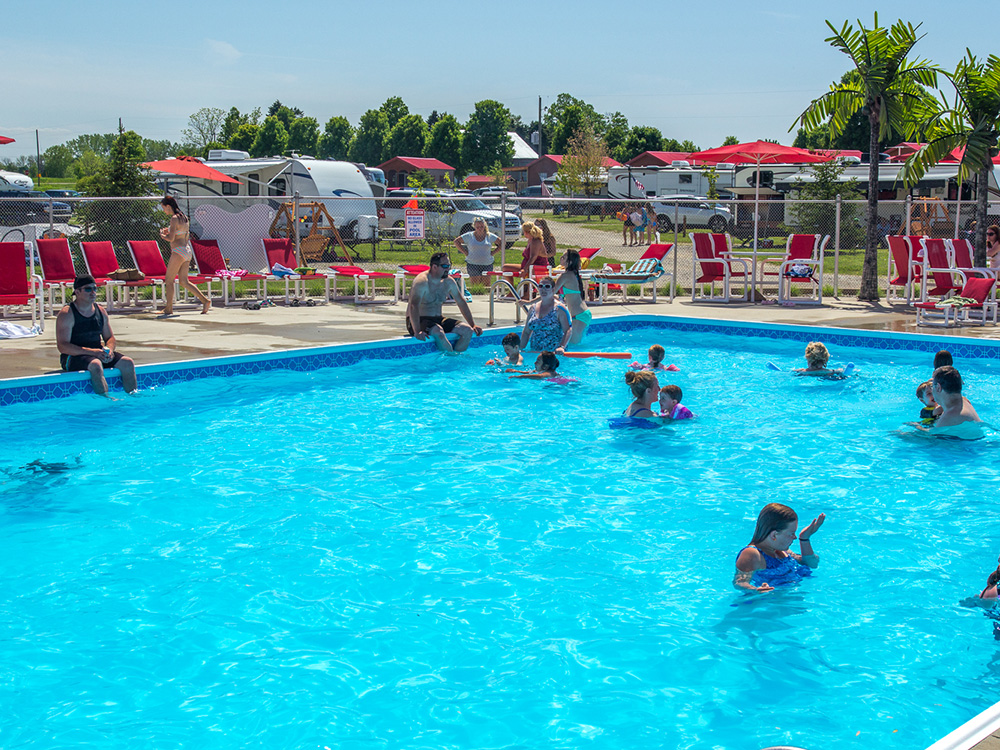 Ol' Swimming Pool
Relax in our beach entry pool. Our entry is easy for anyone to walk into and great for the wee ones to play. Don't worry we maintain the pool temperature around 80° between Memorial Day and Labor Day. You'll feel just like a fish in our salt water sensation.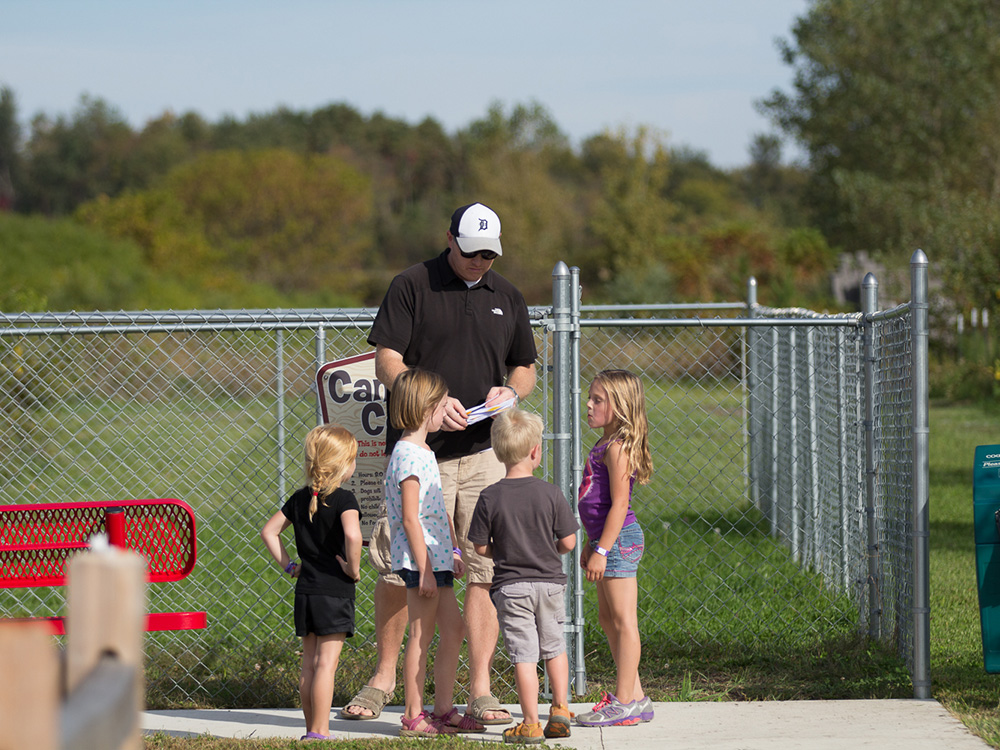 Pet Corral
Let your pet enjoy a little free time off their leash in our fenced-in pet area. They're on vacation too, right? We even have agility equipment to occupy your dog. Even though you are on vacation, please still pick up after your pet.
See the list of items available for check-out: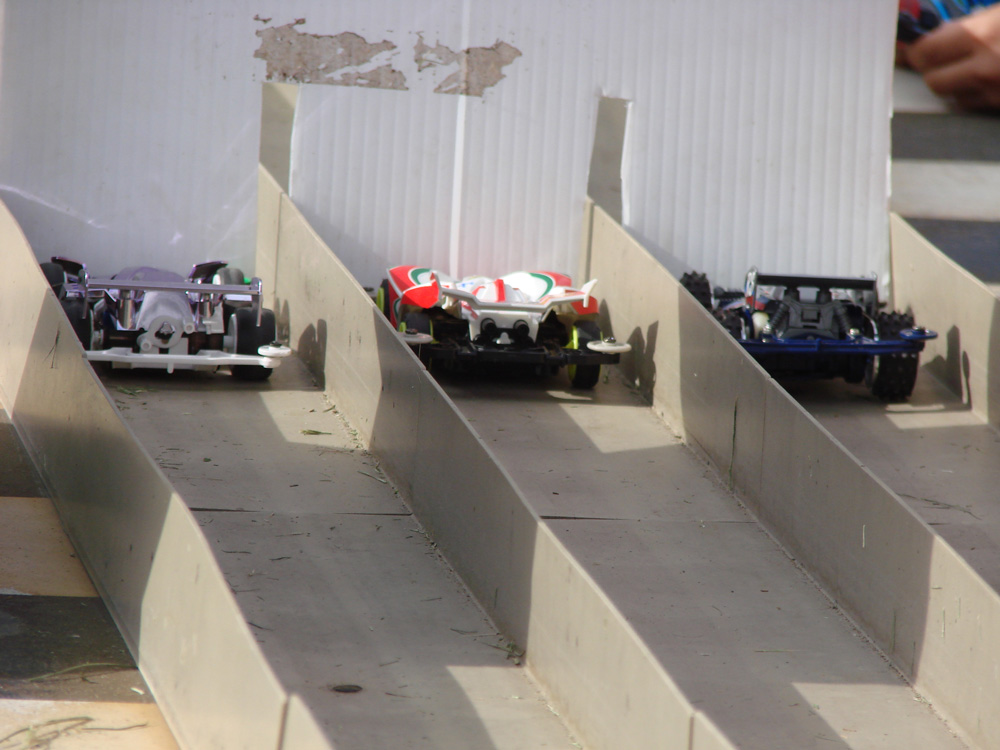 Triple K Raceway
Our 3-lane track, designed especially for our Tamiya battery operated cars, is a hit! Don't have a car? Cars will be available for purchase in the Ranger Station.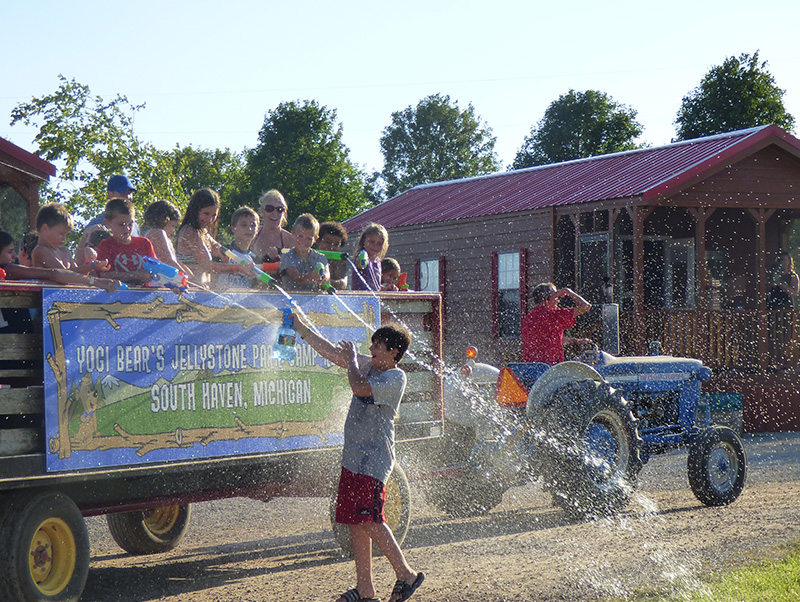 Photo Gallery
View our Photo Gallery for the many pictures of our facilities and all the fun you could have!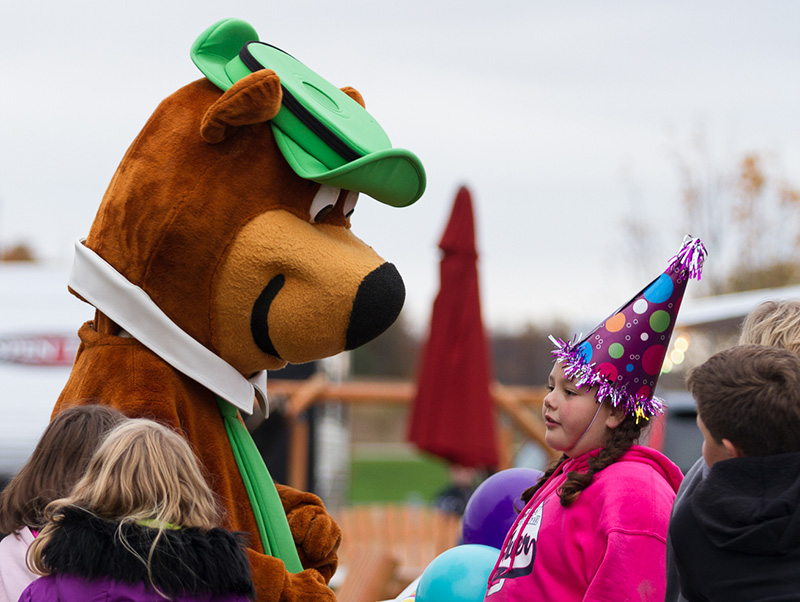 Bear Appearances
Free Bear Hugs anyone? Come and Hang Out with Yogi Bear™ & Friends! Want something more personalized?  We offer that too!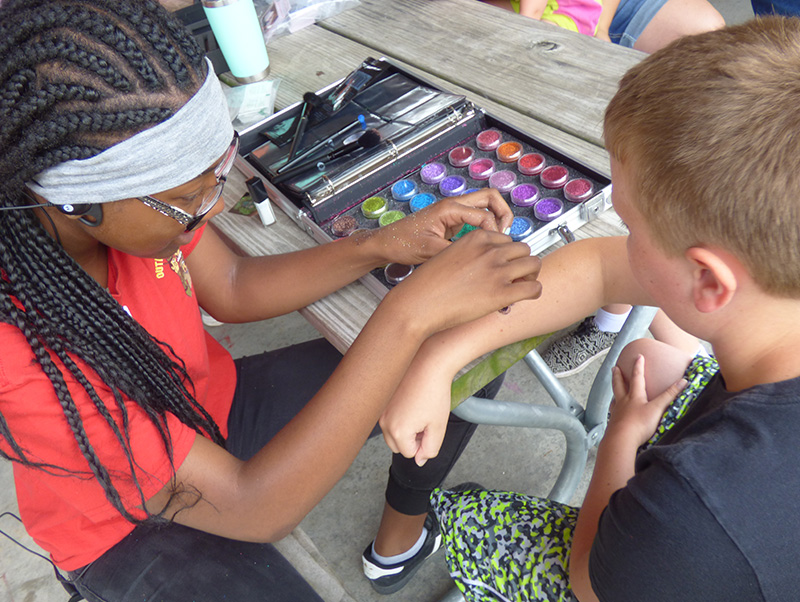 Family Fun
Whether it's crafts, movie nights, to outdoor recreation, we offer a variety of activities that that brings families together in a fun outdoor setting. There will be plenty of fun and games to keep the whole family entertained!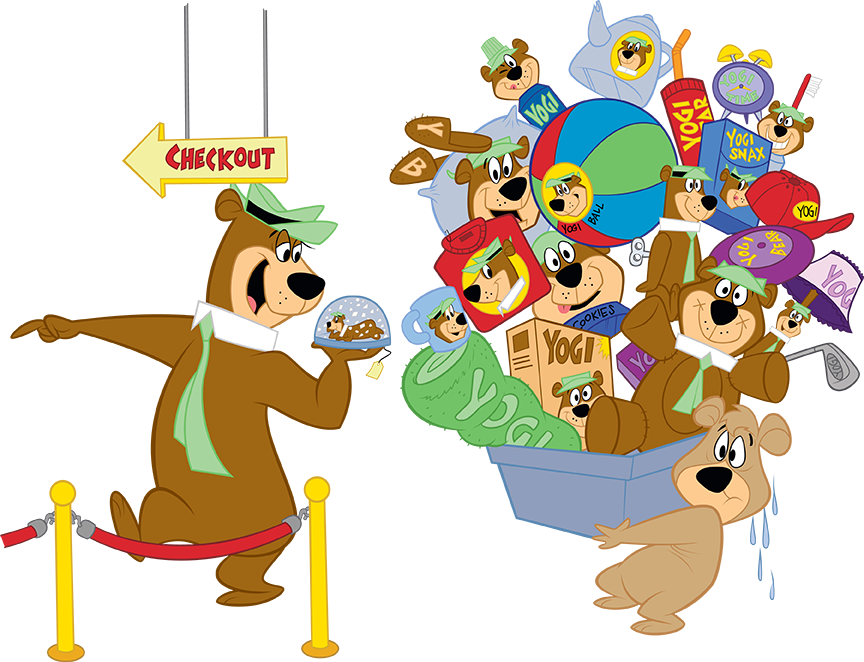 Online Store
Now you can give family and friends a gift they'll never forget – something from Yogi Bear's Jellystone Park™! Whether it is merchandise or gift cards, it will sure to be something they love!